Swimming Pool Heat Exchangers
Latest News: Over 150 titanium heat exchangers in stock.
1-800-335-6650
Models and Prices by pool size
Titanium

Stainless

Benefits:
SEC Swimming Pool, Spa and Hot Tub heat exchangers are designed to perform in all residential, commercial and institutional applications.
Our swimming pool heat exchangers have a highly efficient tube design that makes them stand out from other shell and tube heat exchangers on the market. They can be used with boilers, solar panels, heat pumps and geothermal installations.
Available from current inventory for immediate delivery.
Manufactured in England by Bowman Pool Heat Exchangers under ISO 9001-2008 quality program.
Options to consider: SEC Heat Exchangers offers other design styles which may be better suited for a particular application. Examples are when heating or cooling mineral springs or when using a steam boiler as the enrgy source. Please refer to the following web sites.
Fully welded designs. www.heatexchangers.ca
Plate designs. www.secplatendframe.com
Features: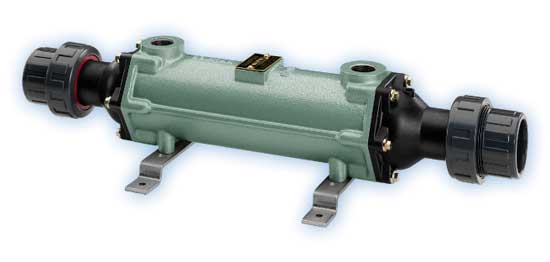 Fully serviceable, easy to clean
Removeable tube bundle
Easy to install in Horizontal or Vertical
Replaceable components
Low pressure loss
The Swimming Pool, Spa or Hot Tub Pool Exchanger Line comes with mounting brackets to assist in their installation and ease of use.
Construction: Titanium or Stainless Steel Tubes, steel Shell, Composite end connections.
Warranty:
Titanium Parts 10 years, all other components 24 months.
Stainless steel models all components 24 months.