Swimming Pool Heat Exchangers
News:
Universal Fit Composite End Connectors now available for our swimming pool heat exchangers. Learn More Here.
1-800-335-6650
Model Selection By Pool Size

S.E.C. heat exchangers are fabricated to the highest quality standards, including ISO 9001 and ASME. Our 18 years of industrial and marine experience is applied to our swimming pool, spa and hot tub heat exchanger designs. Please contact us so we can assist you to design an energy efficient, reliable system.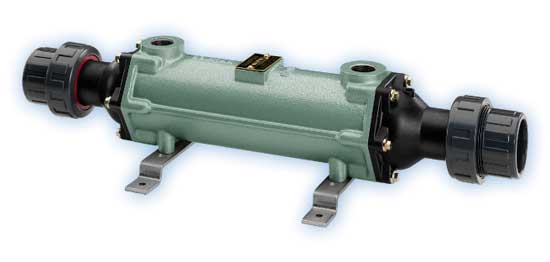 Benefits:
SEC Swimming Pool, Spa and Hot Tub

heat exchangers are designed to perform in all residential, commercial and institutional applications.
SEC swimming pool heat exchangers have a

highly efficient design

that makes them stand out from other shell and tube heat exchangers on the market. Our design incorporates more heat transfer tubes which provide a greater heat transfer surface than our competitors. This means your Pool or Spa heats up faster. Our pool heat exchangers can be used with boilers, solar panels, heat pumps and geothermal installations.

Available

in titanium and stainless steel suitable for all types of pool setups.

Integral thermostat pockets

(on most models) for easier installation.

Removable tube stack

makes the units easy to service.

Composite end covers

with inch size solvent (glue) connections fit directly into the pool pipe work on 5102 and 5103 series pool heat exchangers. Larger models have 'npt' threaded end connections. All models have npt connections for the boiler (hot) circuit.

Also ideal for cooling

pools in warmer climates via a chiller system.

Available

from current inventory for immediate delivery.

Manufactured in England

by Bowman Pool Heat Exchangers under ISO 9001-2008 quality program.
Options to consider: SEC Heat Exchangers offers other design styles which may be better suited for a particular application. Examples are when heating or cooling mineral springs or when using a steam boiler as the energy source. Please refer to the following web sites.
Fully welded designs. www.heatexchangers.ca
Plate designs. www.secplatendframe.com
Features:
Fully serviceable

, easy to clean.

Removable

tube bundle.

Easy

to install Horizontal or Vertically.

Replaceable

components.

Low

pressure loss.
The Swimming Pool, Spa or Hot Tub, Pool Exchanger Line comes with

mounting brackets

to assist in their installation and ease of use.
Construction:
Titanium

or Stainless Steel Tubes.

Steel

Shell.

Composite

end connections.
Warranty:
Titanium materials in contact with pool water come with a

10 year

anti-corrosion guarantee. All other components 24 months.
Stainless steel models all components

24 months

.
Swimming pools, spas and hot tubs have traditionally been heated using gas fired pool heaters. Astute owners of residential pools, commercial pools, institutional pools and therapeutic pools have been switching to indirect heating methods which use heat exchangers in conjunction with a new or existing boiler, geothermal system or solar installation. Renewable energy sources are now popular due to their cost effectiveness, energy efficiency and ease of maintenance.
Titanium heat exchangers and stainless steel heat exchangers are an essential component in these systems. If the residence, commercial building or institution already uses a hydronic heating source for their domestic hot water, radiant floor heating, building heating or snow melt system, then it is relatively easy to adapt the existing system by using a pool heat exchanger to provide the heat energy for the swimming pool, spa or hot tub.  The existing boiler is often under used during summer months and can therefore be used as the source of energy to heat the swimming pool, spa or hot tub.
S.E.C. heat exchangers recommends that you use a swimming pool heat exchanger which is specifically designed for the purpose of heating your swimming pool, hot tub or spa. Our swimming pool heat exchangers use hot water from the existing boiler to indirectly heat the pool water. The result is a highly efficient pool heating system which takes advantage of the boilers high efficiency, often 90% or greater. The efficiency of a traditional pool heater can be less than 75%. Using the existing boiler means that you are not adding another piece of complex equipment to maintain.
Titanium heat exchangers and stainless steel heat exchangers use the hot water supplied by the boiler. This boiler water is typically supplied to the heat exchanger at temperatures between 140° f  to 195° f.
If a solar or geothermal system is installed, these too can be used as the energy source to heat the swimming pool or spa. Recent technical innovations have allowed these alternative methods of heating to utilize heat exchangers to transfer the heat energy into the pool water. SEC provides design specific models for geothermal or solar systems.
Since 1998 S.E.C. (Systems Equipment Corporation) has been providing effective heat transfer solutions to clients throughout Canada, the USA and many other countries.
Heat exchangers and packaged 'energy transfer systems' are our only business. We recommend stainless steel heat exchangers for pools, spas and hot tubs which use chlorine for treatment. If the pool, spa or hot tub is salt water based we recommend titanium heat exchangers. Depending on the size of the swimming pool we also offer gasket plate heat exchangers (PHE) with either stainless plates or titanium plates.
Please use the technical information provided in this web site to select the appropriate heat exchanger model for your application. Alternatively, please contact us by phone or email for assistance. An online quote request form is also provided if you wish to contact us via that method.
1-800-335-6650